March 19 - April 4

Well, I fly back home finally to be greeted with Outside Temp + 1 C on the aircraft travel monitor ( at Amsterdam ).

I decided to take advantage of the 12 hr stopover and go into Amsterdam and have a wander round. It was much as I remembered, nice people, but a little bit cold for me. Did a few tourist things like a canal boat trip and went to a museum, but then if you only have 12 hrs.....

Fortunately, by the time I get back to Glasgow it has warmed up a bit. It just didnt feel like it.I felt really strange, home yet not home. So many things had changed in Glasgow, yet nothing had changed.

The weather was surprisingly dry but it felt freezing after a year of 30C+, even if the natives were saying it was lovely at 15C and I should have been there last week when it was really cold!

The first trip back into Glasgow city centre I was reminded of all the good and bad things about the town. It seemed so bright, so full of shops, so pretty and yet I couldnt believe the number of beggars and junkies hanging round the street corners. I dont dont think I have become more sensitive or more observant than before because talking to friends they have become more noticeable.

General observations -
1 its cold,
2 its expensive
3 everyone is so big ( height and weight wise )

I got to see most of my friends or at least talk to them on the phone which was good, catch up on the mail for the last year - surprisingly little ( thanks to my folks taking care of all the important stuff ).

Saw my nephews again who had got huge! As you might say, they are growing like weeds.

Amsterdam, Centraal Station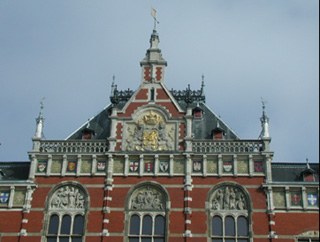 April in Cambodia
Well, OK. Not the entire month of April but I certainly moved around a lot. April for me went something like this ( in major destination changes )
Glasgow, Amsterdam, Bangkok, Siem Reap, Phnom Penn, Sihanoukville, Koh Kong, Trat, Bangkok, Ko Samet, Bangkok, Ko Samui, Bangkok. I just wish bus and train companies would give mileage awards like airlines.
I know a lot of people dont like the full ins and outs so here is a quick travel summary of the trip to Cambodia of how I travelled around and got to places and the prices I paid. The prices in brackets are the normal prices I was told I would have been charged. The full version is still ongoing.

Bangkok to Siem Reap

Left Home 7.30am - Arrived Mor Chit Bus station 7.50am
8.30 Bus to Arranyapratet 8.30am. Arrived Arranyapratet 1.05 Lunch at bus station food centre
Tuk Tuk to border B50 touts not bad.
Left Thailand 2.05pm, Arrived Cambodia 2.05PM Visa B1000 not US $ 20. Touts annoying.
Got taxi 2.35PM B1200 for entire car to myself. Arrived Hotel in Siem Reap 5.50pm

Siem Reap
Ivy 2 Hotel US $ 6 ( US $ 8)
Motorbike driver US $ 6 per day

Siem Reap to Phnom Penn
6am pickup. Boat scheduled to leave at 7.00am left 7.30am
ticket US $ 22 including van to boat ( ticket price US $ 25 )
Arrived Phnom Penn 1.20pm lots of touts and persistent.

Phnom Penn
Indochine 2 Hotel US $ 15 (US $ 20)

Phnom Penn to Sihanoukville
Bus left 1.30pm 14000R for new year ( 12000R ). arrived Sihanoukville 6.20pm ( including breakdown). Not many touts maybe because of late arrival.
Marlin Hotel US $ 12

Sihanoukville to Koh Kong
moto 3000R to pier ( from city centre ). boat ticket US $ 12
Boat scheduled to leave at 12.00am left 12.10pm. Arrived Koh Kong 4.10pm. Touts really fecking annoying and almost grabbing your bags.
Ottos Place B100. ( avoid it )

Koh Kong to Trat
left hotel 10.40. moto B50 plus toll B11.
crossed into Thailand about 11.10. No Touts. Songthaew to Trat B100 about 50 min

Trat to Bangkok
1.00pm bus B189 arrived Ekamai 6.30pm home by 7.10pm

A little journey of 10 days in total.
This is THE HIGHWAY between Thailand and Siem Reap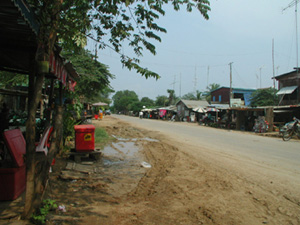 And this is the nice bit. Click the picture for up to date info.
Sometimes you dont get nice scenary in Cambodia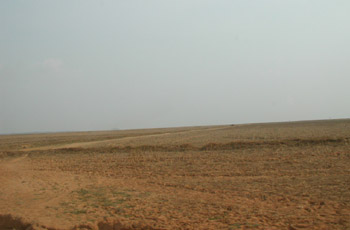 This was taken about 30 minutes or so after the one above. zzzzzzzzzzzzz
April 13
I am taking the chance during holidays to finally do some major travelling round this part of the world.

Got here under my own steam from Bangkok but it took about 10hrs travelling over some very bumpy roads - yeesh. Could have been worse, if I had got a bus from that well known backpackers haven Khao San it could have taken me 15 hours!
Speaking of which, I went there for the first time last week and its a dump! Its worth going there only out of curiosity to see "travellers" communing with the locals - except there are very few locals, they commune with other travellers mostly!
OK, so as promised, here is the report of the trip to Cambodia, or at least part of it. I have done it in a couple of styles, the first one is a travelogue and 2nd part is a straight review.
If you are a member of the following consumer review sites, please watch out for ultras67 or doog2k, thats me!
www.epinions.com
www.dooyoo.co.uk
www.ciao.co.uk
and vote them very helpful!
After looking at all the options I decided to travel overland to Angkor Wat and Siem Reap ( the town just to the south of the complex ).
I got the BTS to Mor Chit and then bus to Mor Chit bus station. I arrived I think, just after a bus had left. Never mind, the next one is at 8.30 so just got that 164 Baht. It was not one of the most modern ones they had but it was still quite comfortable. After about 45 minutes we passed through Rangsit and then Dreamworld picking up passengers all the way. After Rangsit, it was standing room only almost all the way to Aranyaprathet. I never realized Dreamworld was so far out of town. Must go there some time.
About midday we arrived at Sa Keow, just outside of town there is an army base with a firing range. Nothing unusual you might think, but all that separates the range which runs perpendicular to the road - from the road is a wire fence about 4 feet high. The sort that a stupid sheep could escape from. How it stops stray bullets who knows?
About 20 minutes later, we stopped at an army check point and a soldier boarded to check id cards. I was totally ignored but after a few questions 5 people got off the bus and off we went again. Illegal immigrants? No id card? Dont know. If they were illegal in some way, I would have thought that the permanent checkpoint wouldnt have come as a surprise and they would have avoided it. Maybe the bus isnt checked all the time.
Coming into Aranyaprathet, I noticed yet another danger to road users. A golf driving range that again ran perpendicular to the road, with NO fencing at all. One decent hook and oops, one windscreen gone.
The bus rolled into the bus station at 12.50. I was the only white face on the bus and was quickly spotted by the tuktuk and motorbike drivers and quickly heard cries of border 50Baht, border 50Baht but I decided to have a bite of lunch and disappeared into the food court at the station. Unlike some tales, only about 4 guys tried to persuade me to go with them. A 40Baht cheap but tasty lunch with a coke later I had to go looking for the guys to take me as they had all disappeared. Despite my best cries of peng ! (expensive) I couldnt get them to budge from 50Baht. A direction board was in full view with the price, so if you manage to get it for 40, well done.
A quick 5 minute ride later and the border market comes into view. As soon as the tuktuk stops odds are you will have at least 3 or 4 people pouncing on you to offer various services. About 10 surrounded me offering to carry my bag, shade me from the sun with an umbrella, to organise my visa, to arrange transport to Phnom Penn, Siem Reap, to buy whatever goods they have or just to beg.
After a few yards, I had managed to ditch all but two Visa fixers. One of them actually gave me a running commentary of where to go, which actually came in useful as although I had done research on the likes of
http://www.talesofasia.com
( which I thoroughly recommend ) it was my first time physically on location. Transferring written information to what you physically see is sometimes a bit difficult. However, I exited Thailand with no problems with my fixers waiting outside they are thankfully banned from coming inside the official border buildings.

Once outside, they picked me up again and took me to the Cambodian Visa office. The sign says VISA SERVICE which to my mind gives it the sound of a private enterprise which wants 100Baht to process the visa for you and not the official government office. The building itself is a one floor effort with a covered porch area and a covered waiting area outside. Two men were lounging around in the porch and gave me the Visa form fill in the usual details, name, date of birth, passport number etc, give them one photograph and they disappear into the office. Now here is where the official rip offs / tea money / bribery begins. The Visa fee is US$20 but they will refuse this and ask for 1000Baht instead. A nice profit of maybe 150 to 200 Baht. Doesnt sound much but multiply that up and its soon a tidy sum where incomes are low and all these rich foreigners come through wanting admission.

Officially you do have the right to complain and only pay the real cost but then do you want to run the risk of being refused entry? If you dont have the photo, then you will be stung for money to overlook it or to be taken to a convenient place where they happen to have a camera that will take the photo just open your wallet please. Even if you have everything, you will hear the little words spoken in your ear tip for me please, 100Baht? from the officials, just to make sure you get your Visa. I suddenly go deaf, dumb and stupid at this point, I just said What ? and shook my head in misunderstanding and then again. He then gave up and disappeared. 5 minutes later, my passport appeared with the visa.

I crossed over at about 2pm on a Wednesday and it was not busy. There was only one other person waiting. My fixers were still waiting for me outside all this time and guided me to the next step, all the time talking to me where are you going, I can get taxi, I can get bus, I can get you hotel etc etc and all the time I was saying no, no, no, I was going my own way, I was meeting friends, anything to get him to leave me.

In between exiting Thailand and entering Cambodia are a whole range of Casinos. It is illegal to gamble in Thailand although you wouldnt know it. The difference between the money spent on those buildings and Poipet is depressingly huge as is the amount of money that is gambled away there.

I caught up with a few stragglers from a Khao San Road bus in the next building which is the Cambodian Immigration - Arrival.

It was quite funny listening to two of them babble on and on about the holiday and how they were roughing it and what tales they would have when they got back to America. If I could describe them probably Blue Peter or Disney Club would be the best way. Young, clean cut, havent a clue about the real world. They let slip that the roughing it involved a fully escorted tour including pre booked bus, hotel, guide and meals from the Khao San travel agent yup, thats really roughing boys!

In this part of the world when you arrive you are given a card with two sections on it, one of which is kept at the point of entry and the other is kept at the point of departure and then eventually married. You have to keep the departure section in your passport or there is major hassle getting out of the country.

Once stamped into the country my guides pick me up again and starts the taxi, hotel, bus monologue. Having done some research I start to walk into Cambodia and dont slow down at the traditional tourist pick up place for buses the roundabout just 10 meters after the border stamp, it has a large Cambodia Shinawatra advertising hording in the middle. I had been reliably informed that there are some white Toyota taxis about 300-400m down the road because if they park there, the drivers dont have to pay the guide mafia a cut. My guide is horrified, where you go? you miss bus! I ask him when the bus leaves, he says a few minutes. HA! From speaking to people who have done it before, the bus leaves when it is full and not before which can be 1 minute or 3 hours. I keep walking. All the time his speech never falters, bus, taxi, hotel, bus, taxi, hotel.....

A point about Poipet, the name rhymes with toilet and looks like one. It is one of the worst places I have ever seen, dirt, and rubbish everywhere. If I remember right, it as bad a Romania was back in the 70s when I went on a family holiday. Depressing. The only reason to stay there is because the border has closed before you could cross into Cambodia.
Welcome to Cambodia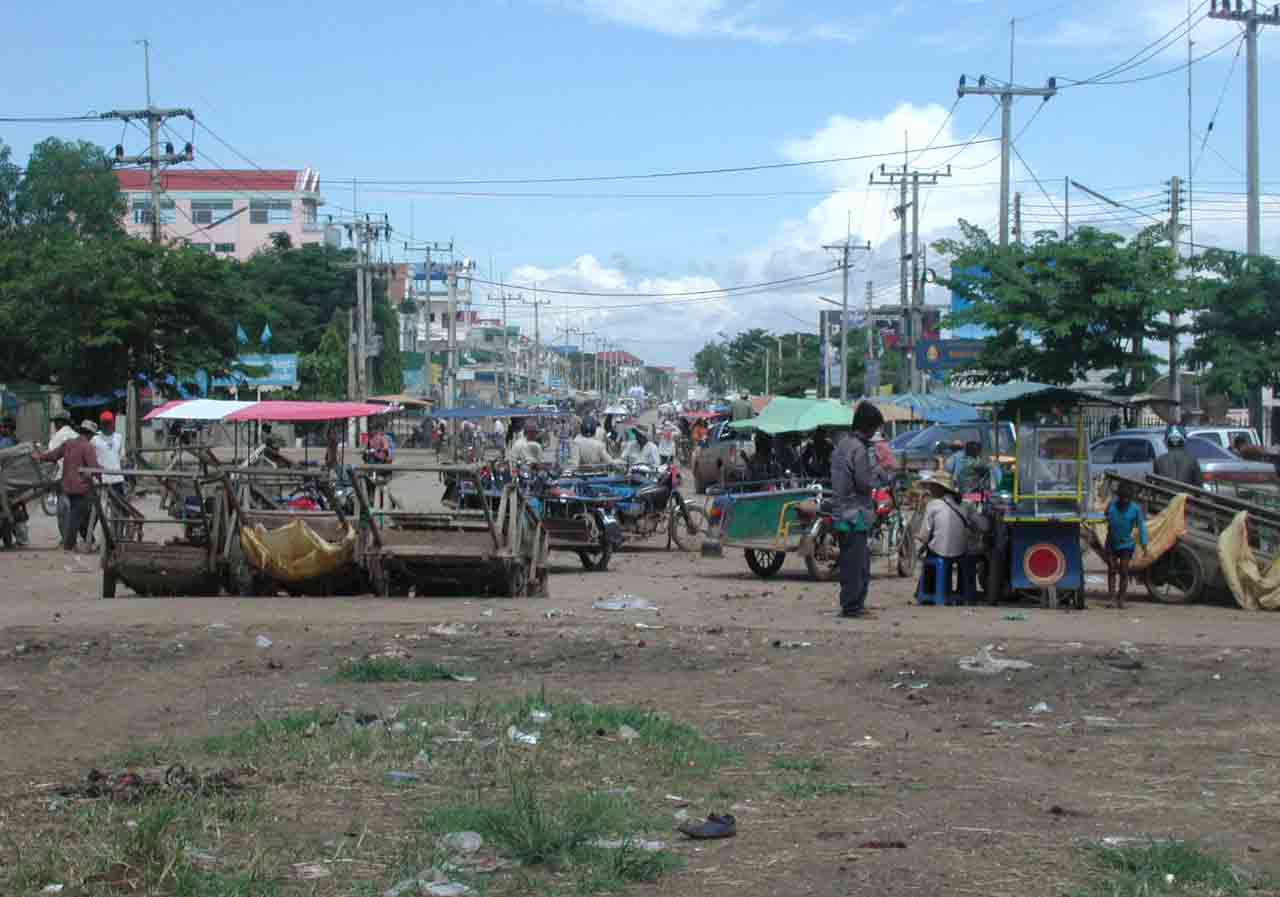 This is the roundabout just after border control. The buses to Siem Reap are just to the right.
About 5 minutes later, I am still walking and beginning to get a little worried, there are no signs of any taxis on the road ahead. A bus suddenly goes by, my loyal guide gleefully informs me that was the Phnom Penn bus and I have missed it. Looking at it, I am glad I missed it though. It is a rattley 10 year old, no air con 20 seater job packed with people and luggage. A couple of minutes later, another bus goes by. Oh, you miss Siem Reap bus now, it is of the same vintage and condition as the first. A pickup then slows down and after a few words with my guide speeds off.
Well, I say speeds but it was more of a hop, skip and a jump of acceleration as it backfired down the road. Every inch of the pickup bed was covered in goods about 4 feet high with about 10 people perched delicately on the metal side. The thought of having to park my behind on 4 inches of metal for 4-5 hours sucking dirt and flies had meant I had ruled that method out prior to leaving Bangkok.
After another 5 minutes, I begin to get quite aways from the roundabout and definitely further than the 400m distance I had been told about. I start to get nervous and begin actually talking to my guide about needing a taxi. Just at that point one appears from the opposite direction carrying passengers. My guide waves it down and says the car will be back once it has dropped off the incoming load. Sure enough, a couple of minutes later, the car appears and I enter into negotiations with the driver. Or at least try to. My guide commandeers the conversation. 2000Baht he says, I say 1200Baht. ( the price I had been told to pay for the whole car), 1800 he says, 1200 I say, 1500 1200, 1300 1200. Ok he says and the driver finally gets a word in, we go now? Yes I say. I get into the back and shut the door. My little friend suddenly got nervous and suddenly opened the door and asks for a 200B tip. I just shook my head and shut the door.
Now, you might think that he deserved something to repay him for his time and advice. Well, maybe, but not in my eyes, as he is just a middle man who will fleece as much money as he can from unsuspecting tourists and make sure he gets a cut from the driver. I have no idea whether he got his cut later or not, I hope not, as the drivers should be able to keep all the money they earn. If I pay, then all that will happen is he will do the same to the next tourist. The power of the internet is amazing, it can make you aware of so many tourist rip offs and hopefully over time they will disappear as people become more knowledgeable.
Once we got started the only went about a minute before pulling in to a petrol station. As I had read this was sometimes a tactic to get more money i.e. you pay for the petrol and the trip, I became a bit wary but it was all for nothing as he filled up and went on our way. About 10 minutes later we pulled over in I can only describe as a loose collection of huts beside the road where the driver says he has to eat. He promises not to be long but again the warning bells start to ring gently in my head. However, again they proved to be foundless and perhaps shows the dark side of getting too much information. You can be really cynical towards people without foundation, expecting rip offs at every turn.
If you go to a KSR travel agent or actually any travel agent in Bangkok, you will be told many tales of an air con bus all the way from Bangkok to Siem Reap or Phnom Penn and it will only take X hours. The reality is that you turn up at 6am at the pick up point and leave about an hour or so later. You then stop off at various meal stops and you get bothered with we can do visa, give us passport, you cant get visa yourself etc etc. The bus on the Bangkok side will be air con but on the other side it suddenly turns into a naturally ventilated vehicle usually old and from the looks of it, uncomfortable.
The journey from there on was in some ways pretty boring as there were no bridges down, no bandits, no roadblocks, nothing. What was funny though was that within about 25 minutes of setting off we came up to the first bus and overtook it. About 15 minutes later we overtook the 2nd bus. So sitting in the back of an air con car with a private driver I felt quite, well I suppose the best way of describing it is, frankly, smug.
The actual condition of the road varied from a smooth dirt road, smooth tarmac, potholed tarmac and potholed dirt. I had brought some books and I had hoped that I could read most of the way during the days journey. As it turns out, the bus from Bangkok is too softly sprung and at times queasily so when reading. The taxi from Poipet proved to be, well, just unable to cope with the majority of the bumps and potholes. There were actually times were my head was bouncing off the top of the car roof. The driver didnt seem too concerned but then again, he was about 5 inches smaller than I am, so he had much more headroom.
The scenery varied from dull - just a dry flat brown expanse, but then again it was in the dry season - to ordinary. The small towns and villages that we passed through were really pretty dirty and so obviously poor. After about 3 hours or so, we came upon the last section of the road to Siem Reap and this was what we would call a road back home, smooth and tarmaced.
Heres a little more personal piece of the review of Siem Reap.
Once into Siem Reap, the smallness and undeveloped nature of the town become apparent. Well, when I say undeveloped, that is not going to last very long. The amount of construction of new hotels is quite scary and is marching towards Angkor itself. I would guess that in about 5 years, the nearest hotel could be only a mile or so away from the complex. This really would be a shame as part of the attraction I think, especially for the first time is the sense of going out into the country to see Angkor rather than just going to another part of town.
Once we started getting near the town, the driver asked what hotel I was going to be staying at. According to the Lonely Planet, The Ivy was a good place to go and was fairly central. However, he said it was full but there was the IVY2 which was run by the same people. I had one of these scam alert warnings but decided that as the guy had been square so far, I would trust him again. Once we got there, it turned out that it had been an old house and converted into a guesthouse. The rooms were quite big and most importantly, clean. Although not quite in the centre it was still within walking distance of just about most things.
Siem Reap - A review
I decided to do this a bit different than normal - as a straight review. Hope you like the change in style.
Siem Reap is the nearest town to the Angkor Wat complex. It is a long and detailed review but I hope it will be worth the read.

Getting There and Away
You can take a 1 hour flight into Siem Reap itself and when landing fly close to the complex itself or you can go overland as I did, by public bus. The actual journey will be covered in a separate review. A Khao San Road / travel agent package is available but should be avoided at all costs, it can take up to 15 hours instead of 9. Usually an air ticket can be picked up for around 7500 Baht.

The fixed taxi fare from the airport into town unless you have organised a hotel with a free pickup will be US$5, the airport is only about 6km outside of town. The departure tax is an outrageous US$20 for international flights and US$5 for internal.

If you are travelling onto Phnom Penn you can fly, go overland by bus or catch the express boat - which I did. This can be bought for US$22 including hotel pickup and will take about 4 -5 hours. The ticket price is US$25 plus US$1 for the transfer, but a bit of shopping around or bargaining will bring the price down. It is a much better way to travel than a non air con dusty bus.

Immigration
If you arrive by plane this is possibly where you first meet the official rip offs ( tea money scams bribery whatever you like to call it ). The Visa costs US $20, however, as with the overland trip you may be asked to pay a different amount maybe 1000Baht ( if you are coming from Thailand ). A nice profit of 150 to 200 Baht depending on exchange rates. Not got a photo, another dollar or two, no health certificate, another dollar or two will see that waived. Not all the scams are tried all the time but they will try at least one on you.

Money.
Like some other countries in the region, the local currency is so weak its submerged by others. In Cambodias case the US dollar or the Thai Baht. Away from the border the dollar is king and the Cambodian Riel is used as loose change or for small purchases. The exchange rate is about 4000R to the dollar.

As for a daily spending, how long is a piece of string? You can easily get by on US$5 a day if you eat in local restaurants and refuse to get caught in the souvenir traps. Or you can spend US$70 plus.

Getting around Siem Reap.
The town itself is actually quite small but its beginning to bulge at the seams as the thought of tourist money comes to the forefront.

Getting around town is very easy, you can either walk, get a motodop ( motor bike taxi ), or a moto trailer ( a motorised rickshaw). Car taxis are still rare if you want one, get your hotel to organise it. All fares should be negotiated before getting on or in the vehicle. For small motodop trips in town maybe 2000Riel or 3000Riel will be enough, for longer journeys, maybe US$1. In the evening, the price will almost double.

Getting to the temple complexes is also easy. Depending on your budget, you can go to the official tourist office or let your hotel organise it and get an air con car or minibus with guide to take you wherever you want to go look at US$30 a day up. You can even hire a bicycle although with the heat and humidity this is only for the fit. Self drive motorbike hire is an on off thing. Sometimes the police allow it, sometimes it is banned and sometimes it is banned but is available just make sure you dont have an accident though or more tea money will be required. In April it was banned but available. Around town you will be approached by people on motor bikes usually young men with quite good English offering their services as drivers to the complex. They will wait for you outside the entrance to the ruins whilst you explore. An actual guide will cost extra. Expect to pay around US $6 a day for the Angkor complex. If you want to go further afield to Banteay Srey etc you will need to pay more. If there are two of you, he will know someone with a moto trailer. This in some ways is the best way to go as you are able to dictate your own schedule and go where you want, when you want.

Where to stay.
With the recent building boom there is now a wide range of hotels from the backpacker dorms at US$2 to the international class ( rip off ) from US$100 up to a whopping US$1900 a night Grand Hotel DAngkor. Its worth realizing that one nights room charge is sufficient to sustain a family for a year. A look in any guidebook or web search will provide a list to peruse. At the moment, there are good discounts going, so always ask for one.

I stayed at the IVY 2 hotel the IVY bar and hotel is recommended by the Lonely Planet. which is an easy walk to the centre of town. It is in a converted large home near the un-named market. The rooms are large, clean and come with a choice of ceiling fan or air con at a discounted rate of US$6 a night for a fan room. I find that the ceiling fan especially keeps me almost as cool as air con, sometimes air con can actually cause me respiratory problems. The upper floor has a covered veranda with hammocks for an afternoon post temple snooze.

Eating and Drinking.
You will never go hungry as wherever you go there will be restaurants of all shapes and sizes from one woman operations selling fruit or barbequed pork to western places with wine lists and penguin waiters. Recommend are The Red Piano, Ecstatic Pizza, Le Gecko Mayonnaise and for a special treat The FCC ( Foreign Correspondents Club ). Other local places are liable to disappear and reappear overnight so I cannot list them. Bars to visit are The Ivy, Angkor What? Just avoid the Beer Lao disgusting.

Shopping
As you might expect in a town with tourists there is plenty of opportunity to part from your money. Most of the official tourist souvenir stores are both expensive and boringly similar in offerings. Almost everything can be bought from other markets or in Angkor itself at a cheaper price i.e. a Buddha painting in Angkor US$5, in an official shop US$9.

There are 4 markets in town, the old, Psah Chas split between souvenirs and a wet market, the upper, Psah Leu the main market for locals, the centre Psah Kandal geared to souvenirs and the as yet unnamed one ( near Psah Leu ) this is mostly souvenirs. You can now buy virtually anything you want in Siem Reap and it will need to be quite specialised for it not to be available somewhere in town.

Internet and Photography.
There are a lot of places to buy your extra film or memory cards, I managed to use 48MB in 3 days and fill my two memory cards. Fortunately there are plenty of shops that will transfer your pictures onto CD Rom. The bigger shops Fuji & Kodak stores charge US$4 a disk but I found a lad in the Old Market who provided a much better, quicker ( 10 minutes not 90 ) and more personalised service for US$3. There are plenty of internet shops in town who charge from $1 an hour up. Quite a few were advertising ISDN lines but it didnt seem that fast to me.

Health Issues
Dont drink the water, full stop. Depending on your stomach, brushing your teeth will be ok though. There is plenty of pure bottled water around. Watch out for contact lenses especially in the dry season, the town can be very dusty and eye infections are common. I managed to catch conjunctivitis on, I think, my first day there. There are a couple of local hospitals in the town, however, they are not to be recommended especially if you have got your insurance you did get insured didnt you ? The best bet will be the Naga International Clinic or International Medical Clinic. If you do fall ill and are a self prescriptor, the chemists will sell you anything over the counter.

Other Sights
There are other things to do apart from Angkor. There are Shadow Puppet performances at the La Noria restaurant every Wednesday, a mine museum. which is not liked by the authorities for reminding people of the past and present injuries that are caused. There are also some reminders of the terrible times when the Khmer Rouge ruled this country Wat Thmei being the nearest, with a horrific glass wall made from the bones of victims. Chances are everyone over 40 will have been connected to the Khmer Rouge in some way or another, either as a victim or participant. Of course, as it is a Buddhist country there are plenty of Wats ( temples ) to see, the most important being Wat Bo. If you do want to have a massage, I can thoroughly recommend the Seeing Hands 4 Massage. All the masseurs are blind or extremely sight impaired. The best recommendation I can give is, I fell asleep during it. Bliss! All for US$3 for an hour.

The People
Almost all the Cambodians I met were friendly and courteous as most people from Buddhist countries are. The only drawbacks were some vendors were a bit too eager to charge high prices and some of the fellow tourists - usually rich Americans. You know the type, the meal wasnt served fast enough, the air con isnt cold enough, you are not eating at a local place are you? and why dont they speak English? To them I say, if you cant cope with the real world, go back to wherever you came from and switch on the tv, but then you couldnt say you were here and braved the depravations could you?

Summary.
If it were not for Angkor, to be honest, this town would be a small provincial stop en route for overland travellers to Phnom Penn and nothing more. Even with Angkor or maybe because of it, most people only see Angkor and leave, all the other sights are left unseen and there are a few worth going to. It is a town really, that holds your attention for only an extra day after you have been Angkored out before wanting to move on.

April 11 to 13. Angkor Wat
Angkor is everything every one says it is. Really stunning in its own ruined way. I have now managed to take about 150 odd pictures and that doesnt include the ones I deleted! Hmm, this digital camera makes things too easy. I will put some up on the web site asap but I will need to edit them first otherwise they will take up too much space. If anyone is interested I will send some of the better ones in an email ( they are about 500-700k though )

The views are amazing but it is hotter than Bangkok and some of the steps make me nervous on the way up never mind on the way down. About 2-3 foot rises and 4 inch steps - eek !
Trying to describe Angkor is extremely difficult but how about these to start with? Awesome, inspriring, tiring, hot, humid, tranquil, magnificent, big.
The name Angkor Wat has become almost a trademark that started out as a specific thing but in the end is commonly used for something much broader i.e. The Hoover, Sellotape and so on. Angkor Wat is just one place but in reality it is just one specific temple complex in a whole series of different areas, ruins, temples and ancient palaces of Banyon, Ta Phrom etc that were built by different Kings in different areas in different times. As far as possible I will refer to the area as Angkor but then use the proper names for specific sites.
I had hired a motorbike & driver the previous evening when I was exploring the town ( or did he hire me ? ) I wanted an easy start so agreed at a 10am pickup. Basically I had no plans on what to see first other than a very vague idea of one early day, one late day and one normal day and to get a 3 day pass. I woke up at about 10.30 with someone knocking at my door, oops overslept. Ah well, the guy will wait, basically thats 80% of his job in the day anyway so a little but more wont matter. So, at 11 I finally set off. The ride out to Angkor is about 15 minutes or so, all the roads into the complex have checkpoints for foreigner ticket checks. Locals once again get in free. It seems a common theme in Asia.
After buying a ticket, the initial road is tree lined so you dont actually see anything until you come to a t junction and you turn left along the moat. Continue down the side of the road and trees gradually disappear and Angkor itself appears. The first site of it is the walkway over the moat and the front gate, then finally the view that is famous the world over, the 5 spires. On the way, the driver had suggested that a route for the three days and having no better idea, I agreed. We would start with Le Petite Circuit.
It is one of the quirks of fate that Angkor was "discovered" by a Frenchman in the 1860s after having been lost. The fact that at the time thousands of people were living there and locals know it was there didnt prevent it from being lost. The fact that the Dutch and Chinese have the complex listed in various documents 50 100 years before is also forgotten. When the French decided it was a tourist destination two routes were set up depending on how much time you had, remember transport was by elephant in those days Le Petite Circuit and Le Grande Circuit. The little and the big circuit. In retrospect, I think it still a good idea if you are on a 3 day tour to follow the circuits and then use the 3rd day to go back and see what you especially liked as they give you a good mix of the types and sizes of temples.
Part of the problem is that unless you are a real archaeology buff or have a really good memory or have written everything down at the time, things start to merge together and one collection of old stones starts to look like every other collections of old stones. This becomes even worse as you read about old stones, so you will be glad to know that I am not going to give a detailed stone by stone account of the different styles and times periods they were built in but I will try to give a flavour of the experience.
We started off by visiting the Banyon Complex which meant that I passed the main gate of Angkor and was tantalised by the view and then it quickly disappeared before passing Elephant Mountain and onto the South Gate of Angkor Thom. The Banyon complex was at one time a thriving city and palace with thousands or ten of thousands of people living there. It is hard to imagine what life would be like with that many people in that manual labour age non electrical age.
Two things about Banyon that make it stand out is the number of 4 faced bhudda images, almost every pillar and tower has them. Although you see them in other temples, they are not there in the same number. The 2nd thing is the type of stone used it is much darker than Angkor. Around the outside of the main ruin were hundreds if not thousands of stone blocks ready to be put back together in the worlds biggest jigsaw puzzle or restoration project. It was a sight I would get used to over the next few days. Around the outside wall was another common theme, a carved relief telling the story of the famous battles or legends.
After wandering around for a couple of hours I started to wilt so went to one of the many vendors outside to rest up and have a drink and something to eat. Amongst the souvenir shops were the usual tourist guide books, postcards and so on were some surprisingly nice paintings. I spotted one or two that I thought were nice and wanted to buy but because it was my first day I wasnt sure if the price was a fair one so I said I would come back. I later found out that the price was actually good and went back but the seller hadnt opened his stall that day and I couldnt find the same ones anywhere else! Some people will never consider eating at the local stalls for fear of food poisoning but since I had been hardened by eating in Thailand for a year, I never really had any qualms about it and ate at various places and never had any problems.
At the smaller temples, as soon as you arrive, you are pounced upon by varying numbers of sellers trying to get you to buy their souvenirs. Most of the sellers are children with usually the mother operating the restaurant or the main stall. It is actually quite hard sometimes to say no, but unless you bring a truck, you have to. One thing that I did come across is that maybe instead of or as well as buying things, people were giving the kids coins from their country. All that this does is that the kids try and change the spare coins from US, UK, Australia etc and change them to US$ notes, Cambodian Riel or Thai Baht. The best thing to do is to BUY something from them rather than let them expect handouts.
Towards the end of the first day, it was decision time on where to see the sunset, Angkor Wat or Elephant Mountain ( Phnom Bakeng ). As I was going to see two sunsets, I went to Angkor Wat first. In this part of the world sunsets are only about 15 minutes long and to take great pictures you have to either plan it or get lucky. I got lucky.
We arrived about 20 minutes before the sun started to disappear but even then light was changing fairly rapidly to the pinky glow you get at sunset. I took a few pictures from outside and almost ran inside to look for good pictures. It was one of these funny things that after being almost awed by the first sight of the place this morning I was not really paying attention to the details as I was only looking for pictures which is not the same thing. I got some more pictures of the outside corridor and again went inside which is where my lucky break came about.
I was taking some pictures of the courtyard when a monk asked if I wanted to take his picture to which I said yes as I had a feeling if I got it right it would make a great one and before the light changed I certainly did get a superb one of him looking into the sun with the rock, his robes, his skin all adding to a great mood picture. His English was pretty good and I gave him US$5 as I had a feeling it would be expected and appreciated. But he initially refused it saying he needed US$20 for his English lessons. Now, I know some will call me cheap for this, but I didnt see why I should give him the best part of a monthly wage for 10 minutes work. Especially if he comes here everyday to pose for pictures. The "donations / gifts " he gets would make him a wealthy monk indeed. It left me with a bit of a sour taste as what I offered him was a gift, I suppose in some cultures, what he did was actually offensive in refusing a gift and wanting more!
In the end, one of the pictures actually got published in The Nation newspaper and won me a small prize!
The next day, I went round the Grande Circuit and again marvelled at the stonework and what life must have been like for people living there. One of the advantages of going out on the Grande is that at some of the temples, you literally be the only person there, giving a real sense of loneliness.
I know I mentioned it before, but because I was going in almost the height of the dry season the heat and humidity sometimes made it a real killer and I was drinking 4 or 5 litres during the day as well as having some sort of noodle soup to keep up the liquid levels. As well as that I was pouring water into the inside of my hat to keep my head cool. For sunset that day, I went to Elephant Mountain ( Phnom Bakeng ). I dont know when it started to get called that but from the guide books, the only reason it is called that is because they offer an elephant ride to save you walking up it, US$15 up and US$10 down. This is one of the places where they shot Tomb Raider, its the scene just after she parachuted down and is looking at ruins through binoculars. This is one of the three main sunset sights recommended on the tourist map and is perhaps the worst as it is so small in comparison to Angkor and I imagine to the third one out at Bakong.
Siem Reap to Phnom Penn
After spending 3 days going around the Angkor complex, I was completely Angkored out. It was getting to the stage of, old, stone, old stone with carving on it, carving from old stone, another old stone. As magnificent as it is, I had reached my limit and wanted out. Where to go next? The most obvious place was Phnom Penn. The only question was how to get there.
The choice of another bouncingly uncomfortable 7-8 hour overland journey in a pickup, taxi or bus didnt appeal at all, so it was down to the river ferry. The price of the boat seems to be dependant on a few factors, how far in advance you book it, how gullible / rich you look, the time of year, whether the guy selling the ticket is in a good mood and so on. Anyway, after shopping around, I bought a ticket for $22 including pickup from the hotel. Some places will sell you the ticket then turn round and say oh, and another dollar for the transfer. Sneaky so and sos. The price on the ticket is actually $25. If you every pay that you will either be unlucky or fleeced.
The snag is, there is only one ferry per day and it leaves Siem Reap at 7am and with the usual nonsense of running around hotels to pick different people up, my pickup time was 5.30am. Way too early for civilised people. In the end I was up about 5 to make sure I didnt miss the bus and outside the hotel by 25 past. At 5 past 6, I was still waiting outside the hotel admiring the sunrise from my limited view by the side of the road and still suffering slightly from over indulging the previous night or to be more accurate, the previous night and same morning ( when will I learn ? ) Fortunately, it wasnt too bad otherwise I would have been in a foul mood as well as having a hangover. After a year of living in Thailand, you get used to the fact that time is flexible and the mai pen rai ( never mind / no problem ) attitude. As time went on, I began to doubt myself, you know the ones you have when you are meeting someone and you are the only person there, is it the right time? is it the right place? am I booked on the bus today? And so on. Because of the time, the guesthouse was completely deserted and quiet, so asking someone there to check was not an option. I had already closed the door behind me so going back inside to even sit and rest my legs was not an option especially as the bus would no doubt then come, not see anyone waiting and drive off! Another 5 minutes went by and what was this? Yup, finally it was the van. As it turns out, I was the last person picked up which meant I could have had easily another 45 minutes sleeping. B********** So we went directly down towards the ferry pier. The journey through the town was only about 5 minutes before we were onto the open road. About 10 minutes after that we turned onto a dirt track that quickly deteriorated into a very bumpy dirt track. Because it was the dry season we had been told the boat might take longer than normal and this turned out to be the case but not for the reason I thought. As we continued along the track we gradually became aware we were on an elevated causeway, the water was only in little pools at the bottom or as far as 15m away. Lining the causeway were, well, I can only describe them as, a collection of pieces of wood that have accidentally come together in the shape of shacks. Some to be fair, were better put together than others, but obviously the people who were living here were not rich and living here because they had to. What was odd in a strange way was that every shack had some sort of number painted on it, like an address, but they did not seem to be consecutively numbered. Shacks, moved, demolished, new ones built? Who knows? I dont know who is the biggest curiosity, them to us or us to them as they see vans with westerners every day.
It showed you what true poverty is, looking inside you can see that they maybe had a change of clothes and a mat to lie on, some cooking implements and that was just about it. Not like in the UK where it seems that to be unemployed, means you can still have the satellite tv, video, central heating, clothes and so on where you milk the system as much as possible but true poverty where if you dont work you dont eat, clothes are 3 or 4th generation hand me downs and you cant just pop round to your local Kwiksave or Tesco to buy a can of beans but you have earn the money first or go out to catch it. ( the community appeared to be a fishing one ). Driving through the community, normal life appeared to be going on, with people cooking, young kids in school uniforms walking to school somewhere, a bit of trading going on here and there. For all the normality, it truly is worlds apart from what we are used to. No running water, no electricity everything that most people take for granted in the west - even the majority of people in Bangkok is not here. Almost everything is recycled, not because it is some green touchy feely right thing to do, but merely because if the item costs money to buy new, its unlikely that they have the money to buy it, so its recycled and reused or sold. Even with this, the level of un-reusable stuff is still high and adds another level of dirt on an already dirty scene. Every time someone walks, it raises a cloud of dust, every time the wind blows, dust gets blown around in your eyes, your hair, your clothes, everywhere. Every time you breath, it sometimes feels that you are swallowing dust.
This scene carries on for some minutes but in distance is probably less then 1k until our destination. The only reason I know its our destination is that there area load of minivans like ours parked or rather abandoned ahead. It is one of these tourist moments we all go through from time to time when we arrive at the airport, ferry, train station and have no idea where we should be going or what we should be doing and hoping that somebody somewhere does even if its someone not in your group. I start walking in the vague direction everyone else seems to be going and hope that the person who does know what is going on will see me or I will see them and be steered in the right direction.
Add the mix of about 6 minivans, passengers from the vans, drivers locals, people from the boats and traders trying to sell food to the westerners for their journey, the scene as you can imagine is fairly chaotic. Now, what the traders ( well, girls with bags full or stuff or portable tables that the moved every time they saw a van coming ) were selling may or may not come as a surprise depending on your knowledge of Asian history and or the country. In Thailand, it would maybe be water, coke, noodles, chicken or pork on a stick. Here it was water coke, baguettes and cheese. So it does seem there is a good point to being colonised by the French after all. As for the assorted food, I had already bought some stuff the previous evening although the baguettes looked quite nice and I was very tempted.
The next surprise was being pointed to one of the very narrow boats that were lined up against the riverbank. They were basically the same ones you see running up and down the Chao Phraya in Bangkok. The seats were bamboo chairs that had been bought from a store then just put into place, thats right they were not secured in any way. There was space for about two abreast and 3 inches, that 3 inches was the aisle. I was ok as I only had a sports bag to carry but for others who had rucksacks, suitcases and in the case of one Khmer lady, 2 sacks of something, there was no space to manouver. This was not the boat that would take us to Phnom Penn surely? It did not look either stable or safe. Worried looks from the other passengers confirmed they were thinking the same. Relief as it turned out, was only a few minutes away as when the next passengers came on ( an American and his Khmer wife ) I over heard the woman say that this boat was just a feeder boat to take us to the main ferry. The main one couldnt cope with the shallow water and was waiting for us further out. Phew! And double Phew!
You may be noticing a lot of 5 minute laters, after 10 minutes and so on in the piece. It is a simple fact of life that when you travel round this part of the world that you have to wait a lot. Nothing runs to schedule or on time or arrives on time. So if you are one of those anally retentive control freaks, this is your personal hell. I hope a couple of people I know come out here.
Anyway, after another 10 minutes of hanging around we cast off and genteely motored our way out into the main part of Tonle Sap lake along which we would soon be travelling. As we went along, we passed floating houses and communities presumably fishing ones, some were on their own some were grouped together like a little village including shops, a restaurant ( obviously aimed at tourists ) and a christian church! I dont know if we were going slowly because of
the state of the boat
the state of the engine
the weight of everyone on board
the water level
something else
all of the above
In reality it was probably all of the above as we stopped a couple of times, one for reasons unknown and one to clear the gunk off the propeller shaft.
However, the main boat eventually came into view and some passengers were already on board and two boats were waiting to unload. The boarding process was easy. If you had no bags and were agile. Otherwise, it ranged from tricky up to whhhooooooaaaaaahhhhh! The ferry was fairly basic inside but I suppose to expect anything more would have been foolish. Inside were 6 rows of seats broken up into 3 aisle 3. The legroom was actually pretty good and the seats were more comfortable than they looked. I easily found my seat and settled down. The boat slowly filled up so I decided to have a look around outside. On the water there was not much to see apart from a couple of floating houses and boats. Going forward and backward there was about a 3 inch walkway round the boat, which meant even at standstill I took the precaution of grabbing it to keep my balance. The roof of the boat was gently curved with the assorted cargo and luggage being put into an area behind the pilots cabin. Marking the boundary of the arching roof from the side is a guardrail about 3 inches high. There is a proper ladder at the back of the boat to access the roof or if you are young and agile you can just climb up the side using the guardrail.
About 7.30 we finally got underway. Inside entertainment consisted of a TV with Khmer karaoke or the self provided sort. Once we started there was no food or drinks sold on board which surprised me somewhat. I would have thought it a great business opportunity, a captive market for 5 hours. Maybe they are too lazy or disorganised to offer it or maybe they were warned off it. In this country nothing would surprise me.
The feeder boat at Siem Reap

Ferry From Siem Reap to Phnom Penn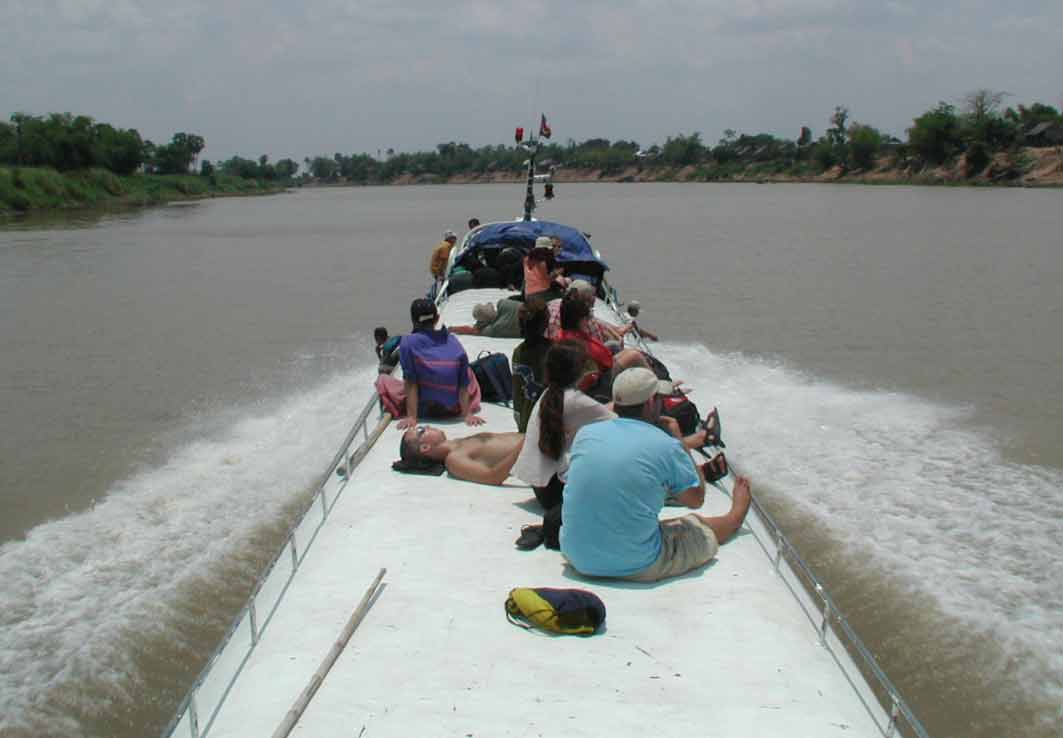 I spent about half an hour below deck when I got bored and moved upstairs to the roof. It was a much better view up there and more ventilation because of the speed of the boat. You got a good view of the lake and when we got to the river, the surrounding countryside. If you do get this boat, there are two things to watch out for. The first is sunburn. The top of the boat is painted white which means as well as the water reflection you get the paint reflection of the sun. I ended up very pink on my arms and neck after 4 hours even though I had spent the previous 3 days traipsing round the various temples and ruins in the same clothing. Secondly, the guardrail is there to stop big things falling of. Not shoes. If you take off your shoes make sure they are secure somewhere. At least one person lost their shoes overboard during the trip!
About 5 1/2 hours after setting off, the jetty in Phnom Penn came into view. Unfortunately, what also came into view was the reception committee of hotel and guesthouse touts and motodop drivers. In order to leave the ferry walkway you had to physically had to push your way past these guys who would take yes for an answer, any answer. You go my hotel, no. Good, you go my hotel bus here, no. Yes, bus here, No. Ok, I have other hotel. NO, hotel good, clean, near here, I take you, NO. I take you no problem, you see, NO! All this is happening with 3 or 4 guys all giving you the same speech and as well as that you have the motodop guys who dont care which hotel you go to as long as they get the fare ( but of course they have their own recommended list just in case ) asking where you go, I take you. Only $1. Basically the result is you can feel extremely intimidated if you dont know where you are going, have not been there before or are not mentally strong enough to cope with the barrage.
My first thought was just to escape from that hell and get out the ferry area, which turned out to be a bigger problem than I thought as I couldnt see any open gates! 5 minutes later with about 3 guys still haranging me about where to go and how, I finally made it out into the main street. Relief I thought. Ooops No. Once out in the street I was soon to discover that I was just as much of a target for the motodops as I was inside. I saw a caf almost opposite the ferry and made a beeline for it for a couple of reasons, 1 I was hungry and 2 it would let me get my bearings and see the list of hotels and where they were in relation to where I was. Duly fortified, I headed off to a street only 10 minutes walk away and was offered about 15 rides from motodops from all directions. I went into the hotel Indochine - but they only had a room inside with no windows. It was too much of a jail cell for me, so declined it. They said they had another hotel just round the corner so I decided to take a look. 5 Minutes later I was in the Indochine 2 hotel and booked in. The room was nice and because the hotel was relatively new, it was clean and sparkling with ac and a tv.
Phnom Penn
Once I had got into the hotel, the first priority was to have a rest and work out what I was going to do. I had been told that in some ways PP was like Bangkok 20 years ago in the sense of atmosphere, infrastructure, entertainment and so on. After staying there a few days I think that is probably right. There is only a very limited bus service in town, public transport consists of cyclos, motodops, the very occasional taxi and walking, a lot of the streets are still dirt, the amount of dust everywhere is unbelievable. Even coming from Bangkok there is an element of culture shock, no English language cinemas, no 10 pin bowling, no skytrain
One of the good / bad things was that I had arrived during Khmer New Year. This meant there were a lot of extra things going on but a lot of places were closed. After my rest, I had decided to go to a couple of the markets, some of the Khmer Rouge museums and so on. But my first priority was to buy some After Sun cream for my arms and neck. Although I had been wandering round the temples with no problem for 3 days, the few hours on top of the boat had turned them bright red. The 2nd priority was to meet someone who I knew who was also there on holiday. Both of which I managed to achieve.
The majority of buildings in PP are French in style which is hardly surprising since it is an old French colony. There are not many ( if you take out hotels and casinos ) new buildings so sometimes you could be fooled into thinking you are in some small French town.
There are a few main markets in PP and the nearest one to me was the Central Market. This is basically in the middle of a roundabout maybe about 300m across. The market is divided into different sections with food, clothing, household items, watches and so on. In some ways, I was disappointed as it didnt really offer anything different that what I had seen in Bangkok. But it was still a reasonable diversion as it killed a few hours and more importantly let me find out where the bus station to Sihanoukville was for the next leg of my holiday. They seemed to use real a/c coaches not minivans and there was no advance booking so it was a case of turn up and buy a ticket.
Just behind the Central market is one of the tallest public buildings in PP and one of the newest. It is a shopping centre that opened at the start of the year and has turned out to be a Khmer tourist attraction in its own right. Why? Well, this is another example of culture shock. It had escalators, the first public one in Cambodia. They actually had a sign giving instructions on how to use them and a guard / guide at the bottom to help people on. People actually came to the shopping centre just to ride the escalators! Imagine that in the UK? No, I thought not. The other main market is called the Russian Market, however, after a moto ride down, I found out it was closed because of New Year as was another smaller market.
Fortunately, quite close to the Russian Market is the Toul Sleng Prison. This was one of the main Khmer Rouge museums. It was one of the main clearing houses during the reign of the KR when they were clearing out PP and the so called intellectuals of Cambodia. From the outside it looks ( apart from the barbed wire ) just like it was a school. Inside is a different story, rooms were cleared of desks, furniture and torture tools installed instead. It is without doubt the most horrendous museum I have ever been in. Not horrendous as in bad but as in emotionally disturbing. They have left as much of the prison in pretty much the same state as it was when the KR was run out of town. Many of the cells still have blood stains, the beds people were strapped to and tortured, the chains and so on. Some of the rooms were converted into small cells, maybe 3 feet by 4 feet with crude brick walls.
I was lucky enough to arrive just after a couple of small groups who had hired guides so I cheekily flitted between them getting an insight into what happened here. In some ways, what happened was good as I found out a lot of information but in others it was just too graphic, too wrenching how the KR turned neighbour against neighbour, brother against brother, son against father and so on. It was the last one that got me. The KR deliberately targeted the children 8-15 year olds as guards, informers, torturers and fanatics because they were more pliable and could be "brainwashed" into the cause. Kids of 12,13 with AK47s. The displays are, I suspect not deliberately raw, most of it is a lack of funds but I personally feel that it just adds to the power of the museum. Something slick and high tech would for me lose some of the impact.
Different sections tell the stories of the people who were connected to the KR or who passed through the prison to one of the Killing Fields. The worst rooms for me were the ones with photographs of some of the prisoners as they were recorded on entry scared, alone, not knowing their future, maybe even knowing this was the last photograph anyone would take of them. At the start, the prisoners were the so called elite doctors, teachers, anyone with an education, then ordinary people who didnt agree with the KR then as with most revolutions, traitors to the cause, early leaders who came out of the wrong end of a power struggle.
It is strange to think that basically the entire adult population of the country was involved in or touched by the KR in some way and the some of the leaders of the KR are now leading the country. In the space of 5 years or so, the KR managed to reverse the progress of the country by maybe 30 years. It could easily have become as good a tourist destination as Thailand. Ironically Thailand was a supporter of the KR when they were fighting Vietnam and probably prolonged the harm caused. A fact that most Thais will try to actively forget. When it was a French colony, it was possible to travel from PP to Sihanoukville in 4 hours, now its 12, progress? There are far more detailed sites about the KR and Cambodia and that whole time period so I wont say much more about it.
I think it is fair to say that by nature I am not an emotional person but that place had a real effect on me and the thought of going to the "Killing Fields" was just too much and spent the rest of the day just reading on the riverfront and then going out to meet my friend in the evening.
The 2nd day was spent just wandering around just getting a general feel to the city and having a look at any interesting places or things I saw. This actually became a common theme with days spent just wandering around going down streets that looked interesting and finding out if they were or not. Some where, some werent.
Ko Samui
Because I had left a couple of weeks before the end of term I had in effect 7 weeks of holiday and I was determined to make the best of it by travelling round as much as possible. As I had never been down to the south of Thailand before it seemed like a good place to go, but where? Phuket? Krabi? Samui?
When I found out that someone I knew from the internet was living there Samui came out on top. The next question was how to get there bus, train or plane. The bus and the train are similar in that they both connect to ferries in Surat Thani to get to the island and take about the same amount of time ( 12hrs land and 3 hours sea ). The cost is roughly the same as well although VIP buses which are supposed to be more comfortable will be more expensive. The plane only takes about 1 hour but costs 5 times the price. Hopefully next year a low cost operator will come in and reduce the cost.
The next thing was to book the ticket. I knew I could buy a combined ticket from a travel agency or go to the Hualampong train station and get it myself. With nothing else to so, I went to buy it myself. Outside of the station are travel agent touts who will ask where are you going, when etc then try and guide you round the corner to book the ticket in their agency and gaining 100-400baht in commission. I just walked by them and into the advance booking shop where I got just as much information and service as well as the cheaper price. Going down was no problem with plenty of choices for classes but coming back on had 3rd class or 2nd class fan. If I wanted to wait another 4 hours I could get 2nd class air but the thought of hanging around for an extra 4 hours was not an option I wanted to take so 2nd class fan it was.
The train down left on time at 18.10 and proceeded its merry way down south clickty clacking all the way. At the moment, it is only a single track from just outside Bangkok so there are a few stops to let other trains go by. But the good news is that work is underway to upgrade it to dual track and speed up journey times but when this will finish who knows. The beds, as is usual, were made up about an hour or so after starting. Because we were due to arrive early I wanted to get some sleep and went to bed almost as soon as the bed was made up. Nice plan. Unfortunately I was right at the end of the carriage so that I was constantly woken by the sound of the automatic door opening and closing, the poor state of the track and the consequent bangs, thumps, jerks and people walking by all the time. The result was I didnt get much sleep and about 5.30am gave up and got up.
There are two things you can rely on in Thailand with long distance trains, one is they will leave on time and two is they will arrive late. Sure enough, we pulled into Surat Thani about 8am which is when the boat is supposed to leave for Samui. I was slightly worried that it would have left but I kept on saying to myself, no it hasnt, its a connecting service, it wont leave until we get there. In a normal country that would be enough and I wouldnt have thought much more about it, but as the saying goes " This is Thailand" (TIT) and anything could happen. It turns out that a few other people had the same fears. As soon as we got off the train I heard someone asking a man from the waiting coaches what was happening and he confirmed that the boat was waiting which put my mind at rest ( almost, TIT! ).
Depending on where you bought the tickets we were given differently coloured stickers to wear so that our minders could put us onto different coaches. Thing is, all the coaches were going to the same place so why didnt they just share them. Nah, thats too logical. After a quick 10 minute ride we arrived at the pier to be given new stickers to wear depending on our destination, Ko Samui, Ko Tao or Pha Ngan. We all piled on and the boat set off for a fairly uneventful journey with only a small rain squall which sent everyone below decks. When we arrived, I was pleasantly pleased by the small number of transport and accommodation touts and they werent too aggressive either. Although I knew I was going to Chaweng Beach, I hadnt booked anything in advance and was just going to have a look at a few places before checking in. A short songthaew ride later I was going down the main road in Chaweng and wasnt too impressed. Bar, travel agent, souvenir shop, internet, bar, artist shop, internet, bar, internet, artist shop, travel agent, bar..
I looked at a couple of places before plumping for the Baan Chaweng. Nice and basic and clean and relatively cheap. Once I checked in I headed to one of the many bars for some lunch. Nicely refreshed I headed to the beach with a nice book for a couple of hours. I had been told that Chaweng had the best beach and I can see why. It was picture postcard white sand, blue sea and long. For the next 5 days I basically followed the same pattern of going down to the beach for a few hours with a book and finding a spot at the top of the beach under a shady tree to sit and read or explore the beach or swim or jet ski. When I was bored I used the time to explore the rest of Chaweng or the island. Exploring the island was not as easy as it could or maybe should be. Getting round the island is by songthaew, motorbike taxi, hired motorbike, hired car or walking. I had seen plenty of people getting a bike and just jumping on and away so I thought it was about time I tried it. OOOOPPPSSSS! Big mistake. Fortunately I said to the lady that I wanted to try it first before going out on the road. it was the best decision, I have made in a long time. There was a piece of waste ground behind the office and I tried riding it around for a few minutes. Basically I scared myself stupid. Ok I would have got used to it after a few hours or so, but that few hours would have been petrifying and potentially lethal. I even managed to crash into another bike during this trial. I decided there and then not to hire it. I think to be honest, she was probably glad I didnt as well as I am sure she had visions of another stupid falang crashing her bike and maybe killing himself and other people. The next few days I could have a laugh about it and the fixed scared faces of other new bike riders going to themselves "I can ride this, I can ride this!"
May 6 The New School Year
A new dawn - or is it a sunset?
Well, its turned out to be a both of both really. As it turns out, I am the only one lest who taught Prathom 1 & 2 from last year. A combination of people leaving or moving to a different level.
The first few weeks have been really difficult as the new folk dont know what to do and we are one teacher short. This means we are having to teach 40 kids sometimes in their classrooms instead of our classrooms. This messes up the lessons as basically it means we have to change the way we teach and sometimes what we teach. A lesson that works with 20 kids sometimes does not work with 40.
Because they havent got the proper number of teachers in, we have had a number of cover teachers in to do one or two days and then leave. This is OK in a way but it means there is no continuity for the kids.
June - Well we have got a new teacher in - in fact two. One is an Irish guy and one is an Australian woman. In some ways he seems ok but this is the first teaching he has done. He sometimes looks like a rabbit caught in headlights. She is well, I dont know how to say this. Nuts, pscho, tuned to the moon, from another planet, 1 can short of a sixpack, a sandwich short of a picnic.......
She is woefull but supposedly has got lots of experience teaching in different countries. We are trying to work out if she has been in that many countries because she was found out and had to move or what. She finishes classes early, wont take advice, uses the office phone to look for other jobs! She has raced ahead int he textbook so she is about 6 units ahead of the others despite starting later, wont do lesson plans or research material but will happily steal other peoples work.
July
We have done mid term tests and it was pathetic. These are tests totally in our control and what happens. The boss decides to use Test 3. Unfortunately, we should be using Test 1. This means we have tested them on things we have not taught them. The phrase DOH!! rings a bell here. Everyone complained but all the photocopying was done so fait acompli or however its spelled. Duracell, Ditzy Bird or whatever we call her is still going strong. We are not sure how though. She is constantly late for work, late to go to class because she on the internet the whole time. SHe has managed to alienate almost everyone in the staffroom by now. She will just not shut up, she has to verbalise everything she is thinking. ie someone is eating an ice cream.
"is that an ice cream?"
"yes"
"wow, an ice cream. Where did you get it?"
"downstairs at the cafeteria"
"you bought it in the cafeteria?"
"yes"
"downstairs?"
"yes"
"wow, an ice cream, what flavour is it?" (usually not an unreasonable question but it happended to be chocolate in colour, which is a little clue. )
"chocolate"
"wow they sell chocolate ice cream in the cafeteria?"
"yes"
and so on for about 10 minutes. yeesh I could go on for pages about her but to save your sanity and mine, I wont.
The organisation of the school is quite a wide range from woeful to spot on. Unfortunately, in our section it ranges from "dotn tell them anything until the last moment" to " oops we forgot to tell you" . It is sometimes like dragging blood out a stone to get proper information. Also the concept of planning seems to be pretty much forgotten about. Like so many people say, its making that jump from A to B to C. Its not just the Thais. It seems to effect everybody who has stayed here a long time. You somehow forget to make that next jump and stay ahead of the game.
Example - we are doing mid term tests - run exclusively by the agency I work for and not the school ( to recap, I work for an agency that has a contract to supply teachers to the school ). So, all in house, our tests, pretty simple you would think. Just copy the tests from the teachers books and give them out. Ummmm, no. Instead what happens is that less than a week before the exams we get them handed to us, not a great amount of time to prepare but still just adequate. We ( the teachers ) all look at the tests and go " there is something wrong here!' Yup, the ( Thai ) agency boss decided to copy Test C for units 12 -16 or whatever, when we had only covered units 1 - 5. In other words we would be testing them on things they had not yet been taught. DOH! As usual, the American project manager wimped out and disclaimed all responsibilty. This is just another example of his lack of backbone and the wish for an easy life.
So in the end, what happens? Nothing. We do the tests under protest and have the promise that it will be better organised next time - yeh right. Of course the exam results are predictable. If the kids dont get any outside tuaition they were stuffed on the things we hadnt taught them.
And we are still teachers short.
July 6th
This is basically an adapted version of the day trip that was written by a friend of mine because I was too lazy to write a version myself. To make up for it, here is another link to his site. http://www.cappels.org
Last Sunday, I went with some friends on a sight-seeing tour of Ayuthaya the previous capital of Thailand. I had been speaking to Dick the previous week about what we were going to do the public holiday one of the so called Buddha days that crop up through the year. This one was Kow Pansa, which marks the start of the "rains retreat", a two month period in the rainy season in which monks are supposed to stay within a their temples, and not wander around. Basically the schools close as do most bars and clubs as one of the basic Buddhist precepts ( like a biblical commandment ) is that alcohol is bad for you and shouldnt drink. Up popped the idea of a day trip to the old capital of Thailand and we had a plan.
The origin of this particular day is that this was decided by the Lord Buddha himself, as during this time, rice fields are planted with young rice plants and there are many small animals about, and the Buddha was concerned that monks traipsing around the countryside would damage crops and trample small creatures. It is also supposed to be a good time for monks to dedicate themselves to reading and meditation. Since the rains retreat starts after the planting of the rice fields, many young men are free to don robes for the duration of the retreat -there is little to do in the flooded rice fields during this time.

Kow Pansa is celebrated with readings of Buddhist text in many temples - sometimes around the clock. It is also a time for making merit - doing good to help influence one's fortunes in this life and after. Donating to temples is a traditional merit-making activity as is paying one's respects to the Buddha. It is also a time of lent - people should refrain from violating Buddhist precepts that apply to them (there are various sets of precepts for laymen, novice monks, monks, lady monks, etc.

It was nice to get out of Bangkok and be a tourist for the day. The two hour train ride (which amazingly cost only 15 baht, ( about 25 pence ) per person, was so packed that we had to stand all the way. One of the things you notice about trains in Thailand is that you will never go hungry or thirsty as every stop will have people selling you cakes, rice, pork, chicken, coke, beer, water.. And if you cannot wait until the station there are people carrying it through the carriage for you. This is definitely not British Rail catering! The only trouble is that when the train gets crowded it can be a real pain squeezing up to let them through every five minutes and for them to ask you the same question Water? Beer?..... Standing in 90 plus degrees for the whole trip whilst being within 2 inches of umpteen other people can be very tiring and is not good on the legs. By the time we arrived, we were already a bit tired and we hadnt even started walking around yet.
After a quick research of the Rough Guide we decided on a rough itinery and set off. The first stop was the old Royal Palace grounds as a destination and discovered that basically it was just a low rise unimpressive bundle of ruined bricks in a muddy field overgrown with weeds. A wooden replica of part of the Palace was in the distance. We selected another site from the book and went onward for another site that was more interesting.

The problem I had was that basically Angkor Wat spoiled me. The ruins, if I had seen them in February I would have thought they were really good but after, they were frankly small beer. Nice beer but small. The first proper place we went to was the resting place of King Rama 2. As is usual in Thailand, there is a dual entrance fee, one for locals and one for everyone else and of course everyone else pays double. Ok, its not such a large amount, 40 Baht instead of 20 Baht.
After lunch we went to one of the most important Wats in town so Dicks wife and friend could make merit. There were throngs of people attending the temple to tamboon on this special day. "Tomboon" is Thai for "make good", and is important in the context of Thai Buddhism in that doing good, particularly with respect to things Buddhist, is thought to help assure a better life the next time around, or maybe even help them escape the physical realm altogether. One way to make merit is to attachd gold leaf to Buddha images, an act that comes after an offering of lotus buds, joss sticks, and lit candles. Worshipers give a 20 baht donation in exchange for these items which are then left at the image.

Within a minute or two of flowers, lit candles and glowing joss sticks left at the images were carried by away volunteers to make room for more offerings. While this was going on dozens of people constantly dropped small coins into tin cups (there is a ritual involving tens of little cups) and then beat a set of large bells with wooden clubs. Some people carried large yellow candles (meant to look like bee's wax) that are meant to provide light to monks during the rainy season. The largest candles are over a meter tall and are intended to burn constantly throughout the season.
After the temple, we walked around some nearby ruins, then having snapped our last pictures of the day, made our way back to the bus station ( as we decided that the 15minute interval of buses would gurantee us a seat rather than risking standing for another 2 hours on the train. We found seats and leaned back and enjoyed the air conditioning. The fare back to Bangkok? 45 baht each (about 75 pence)

So all in all a nice day out but as I said, it was maybe a little spoiled by the fact that it all seemed small and unimpressive after Angkor.
August
Same old same old. But at least Duracell finally gets the boot. She wound up so many people that finally one guy moved his desk just to get away from her. That didnt work so they had a screaming match in the classroom where a few home truths were told and that nobody liked her or trusted her or thought she was doing a good job so why didnt she just quit and make the rest of us happy! Harsh but it had to be said.
September
Well, here we are going into September and not many weeks teaching left. Only 1 actual teaching, 2 weeks of our exams, 2 weeks of the Thai exams ( while we stay in the staffroom marking our ones ) and then two weeks of thumb twiddling while there are no kids but we have to turn up to school anyway. After that, its holiday time. I will go somewhere in the region but I havent a clue where just now. I have considered at various times - take a deep breath - Ko Chang, Ko Samui, Krabi, Phuket, Hua Hin, Cha Am, Chiang Mai, Phnom Penn, Vietnam, Bali and a couple of others I cant remember at the moment.
September 16
Gosh, I am almost up to date now! Ok, I suppose a mention of the Formula 1 is due since I got rid of that page from my other site. This season started off like all the others in the last few years, boring, boring then somethign strange happened. M Schumacher got bad luck and the others started closing in and it became - for want of a better word - exciting! Just a shame he won at Monza though, it would have been really intersting to see him behind at this stage of the season. But, its only a 3 point lead so who know what will happen in 2 weeks. The real problem with the Indianpolis GP is the time difference, it starts about 3 or 4 am here!
Which takes me onto the next one - COME ON RANGERS tonight!

OH YESSS!!!! The bears have done me proud. We have points on the board for the Champions League. Just a shame the highlights package was so poor over here. I saw about 3 seconds on the run up to the Rangers goal and that was it but got the Real Madrid game live, delayed and then again on another channel the same night!
Well, the exams are now over and all we need to do is fill in the report cards. How many times can you say is capable of good work if he would just shut up for 5 minutes and listen ( politely ) ? Suggestions on a postcard please.
October 1
Well, the report cards are now finished and its boredom city zzzzzzz
One thing I have not sorted out yet is what I am doing during the holidays coming up. I still dont know where to go or what to do.
And tonight there is the away game to Panathonikos. SO COME ON RANGERS!!!
October 3
Arrgghh! 1-1 and losing a goal in the last few minutes. Before the game I would have accepted that but not after finding out how it turned out.
Well, I have decided to go ahead and start a new qualification after finally finishing the HNC. Part of it is down to teh fact that I am getting so much non recognition of the ICM qualification. It is causing me problems trying to get a work permit like nothing. They are wanting so many more details its untrue.
October 14
Only half a day to go until school ends. Its been purgatory as we have had nothing to do except sit around and chat or go on the internet. Even the scheduled trining they put on the last 2 days which means we are all really not wanting to do it - even more than normal. If they had done it last week, we would have had some energy but at the moment its awful.
Holidays? Well, I have decided to spend more time in Cambodia to see things I didnt in April. I will only spend 1 night in Siem Reap this time and catch the Angkor Sunset from a Different point of view then quickly move onto Phnom Penn.
Here is the first part of the Journey.
18th October
I decided to basically go the same way to Siem Reap the same way as in April, so some of this will sound familiar, but I promise there are a few twists.
I got the BTS to Mor Chit and then bus to Mor Chit bus station. I got the one at 7.30 ( just ) 164 Baht again. It was one of the most uncomfortable government buses I had ever been on. I was unfortunately right at the back. It seemed like there was about 2 inches of vertical travel and one inch of horizontal travel over every bump. This basically meant that unless I liked having my head bounced on and off the headrest I had to stay awake.
As before the bus picked up passengers all the way. I dont know if it was the APEC thing but this time there were two check points, at the 2nd one the passports were checked quite thoroughly. I noticed this time a Cambodian passport being shown and OKd but again about 4,5 people got off the bus and went to the army post for ???
Because I had been in a bit of a hurry and just made the bus, I hadnt got a newspaper, I thought I would go into town and get one. We got in about 12.00. The usual cries of tuk tuk, moto to the border etc came up as again I was the only white person on the bus. I shied the off and had a quick look around, there was only one place that sold newspapers and there wasnt a Bangkok Post. I thought about walking into town but it was too far and too hot to walk it. I went back to the tuk tuks and tried to explain what I wanted to do and there was much confusion. Why did I want to go into town, there was nothing there, it was a small town and so on and so on. It got to the ridiculous point where they were going to charge me 60B for going into town but only 50B to go to the border which is 10Km further away. They said there were shops at the border that sold newspapers and I could get them there. What of course they were worried about was that, if I went into town, another driver would take me to the border. In the end, because I wasnt that desparate for a newspaper I agreed to go to the border and find the shops.
Of course, when I got there despite having a good look round the market and the border area there was nowhere selling newspapers a market opportunity for someone perhaps? The other thing which I suddenly remembered was that I had not brought a photograph for the Cambodian Visa, again having seen nowhere that would do photographs another selling opportunity surprisingly not taken up. However, I was not too worried based on the fact that the Cambodian Visa service are basically ummm pliable? Any most problems are overcome with the right amount of money. Can be handy when you are genuinely forgetful but worrying when you think others with less concern for the greater good could waltz through with little more than a fat was of cash.
The tuktuk stopped and no one approached it. Strangely quiet, as I stepped out a few touts started towards me and after 10 yards I had waved or talked them all off. Maybe I give the air of an experienced traveller now, I dont know.
I got into Thailand exit immigration with no problem and then waited for about 45 minutes until it was my turn finally to get stamped out. The reason for the delay? Thais going to the Casinos in between Thailand and Cambodia. Gambling is illegal in Thailand I will make no mention of the many local card houses, makeshift and not so makeshift casinos and bookmakers that exist with the protection, knowledge of and in some cases ownership of the police, army or various politicians.
I then moved over to the Cambodian Visa office and said I had no photo, they said no problem 100B please on top of the 1000B Visa fee. As I just said, good news, bad news. Five minutes later I had my Visa, no problem. Going into Cambodia is a bit strange, if you go in and out the same day, they may charge you 100B or even 200B, another scam fee. I handed my passport in with no problem but when I was waiting to get it back two german speaking Americans came in with a fixer, the passports were given to the immigration man and he suddenly started asking them questions, what are you going to do in Cambodia, how long will you be here and so on, this surprised me and no one I know had ever been asked these questions. They replied they were there as tourists and would only be there for an hour to which the officer said, ok, now you pay 100B. They duly paid up, but this was the first time I had heard money being asked for on entry. The one time I had done it was on exit but then I had been told to avoid paying that fee to say that I had paid at the entry booth. So I suppose it must happen. When I got my passport and departure card back I noticed that my time of entry had been written on it, presumably to stop me avoiding the scam.
Once I had left the entry booth I picked up a couple of new guides and the where you go? You go Phnom Penn? Siem Reap? Where you go? monologue starts. As before I didnt want their help or advice and I just said I was on a Visa run and was going back in and hour or so. Having then persuaded them that this was the case only one stayed and tried a new tack, you want lady? Thai lady, Khmer lady Vet(namese) lady? There is very little way to describe just how depressing Poipet is and I had no intention to discover the naughty nightlife. It was only a couple of minutes later of consistant no, no, I am only here for a visa run that he relented and walked away. I duly started down they laughingly call the main road towards Siem Reap. I must have looked quite a strange figure walking along that road, who is that silly white man? I must have walked about 500m before seeing a taxi heading towards me, I waved it down but it didnt stop. I kept walking, another one appeared a couple of minutes later full, I waived at it again and the driver waived back but didnt stop! Third time lucky I hoped. And so it proved, this time it was 1250B eventually. There was much pleading of oh, road very bad, only 100B more, not much money for you etc etc
At the first town, Sisophon, we took a turning that I didnt recognise and headed past the pickup (bus) station where all the pickups stop from Poipet and new minbuses and so on start, the information I had was that it was chaos and it looked actually worse than that, we turned onto a side street and then the driver got out. I was wondering just what the heck was going on, was he going to pick up more passengers, another friend so that they could rob me somewhere or what? He came back two minutes later and in broken English explained that the car was no good and I would swap cars at the same price. To me the car seemed fine but I am no mechanic. About 10 minutes later, another car drove up and some discussions began between the drivers and then it was agreed, I would move cars the thought that I had any real say was probably not even contemplated, not that I really had a choice anyway. So, car number 2, to my untrained eye looked in worse condition crack in the windscreen, more rust and so on, than the first one and made just as much noise and clunks and groans. But we set off, me and driver number 2. The scenery, so brown and dusty 6 months before had changed a lot, most of the brown expanse were now under water and were in fact rice paddies.
The road was in fact bad, much worse than in April so that we were slowing down to 5kph at times moving from side to side to find an unpotholed relatively level section. The trouble was so was everyone else. This was normally not a problem as there wasnt much traffic but when you are suddenly faced with overtaking a truck in the space of 200 yards with a 10 tonner heading directly towards you, it does give you pause for thought. This happened quite a few times but didnt appear to phase the driver at all. All it did was make him hit the horn harder. At 5 kph, its not nice, but when we got to ok bits and he was doing it at 90kph it definitely wasnt. If the car had been steady enough I would have taken a photo but it wasnt so I didnt I did manage to get one on the Sihanoukville to Koh Kong road which was pretty similar, so it will give you an idea.
About 2 hours in, we pulled to the side of the road, I was about to ask why but then I saw the reason, the road was blocked for some reason. It turned out that there was a repair crew working on the bridge. At this point I should actually explain about the majority of bridges on this road. They are not bridges that we would think of using in the UK or US for a main road. A distant backwater perhaps but not the single overland route to another country. Some bridges are as basic as a steel skeleton and then planks of wood are then laid on top to provide the road surface. I have no idea whether they are suppose to be pinned in some way but judging by the number that move, I dont think they are. Another type has steel plates joined by welded connecting rods. It was this type of bridge that had become the focus of everyones attention. Well, what else do the drivers, passengers and so on have to do? We are in the middle of nowhere after all. In April it not occur to me why there were shops beside the bridges. Stupid me, its a perfect captive market. Where else could they possibly make as much money, lets face it, if you were a westerner and saw one of these shops you wouldnt suddenly go Oh, lets stop at that shop and buy X stuck for an unknown time at a downed bridge and who knows how much you will spend ( certainly more than a khmer will, that I guarantee, whether you know it or not ). Now when I say repair crew, I am being well, lets say, generous. It is 4 guys, of whom one is the welder, one feeding him steel rods to weld on and alternately pound the hot metal with a sledgehammer for that precision finished look and two to just well, sit and talk and watch.
This is one of the reasons why an overland trip can take so long, the road can be very bad reducing speeds and bridges can be down stopping you altogether. Depending on how you are travelling , the delay can be long. This is where the advantage of taking a taxi can come into play. After about 20 minutes or so, my driver reappeared after going off to watch the spectacle that is bridge repairing, he had been speaking to another driver caught on the opposite side coming from Siem Reap. Did I want to swap cars or wait an unknown period of time hmmm lets think about this one now. OK, I will have car number 3 please. This is much more difficult on a pick up or a tourist bus as far larger numbers are involved as well as in the case of pick ups very large quantities of stuff. There is no other way to describe it as it cover the anything and everything that pickups carry as well as people. There is a Cambodian joke that goes like this.
How many people can a pickup carry?
One more.
After going round Siem Reap for a whole day, it was time to get out and move on to Phnom Penn. After some searching, I got a ticket for only $16, 6 less than in April :)
The pickup was again around 5.30am. This time the van arrived only 15 minutes late and as I was the first one on, I had to endure the cross town trips to pick everyone else up. By about 6.20am everyone was on board and we set off for the ferry. As before the journey through the town was only about 5 minutes before we were onto the open road. About 10 minutes after that we turned onto the bumpy dirt track. Before the water was well away from the causeway but this time it was only a couple of metres below the top. Its amazing to think of just how much water that it takes to raise a lakes water level by 10 metres plus.
The same ramshakle collection of shacks lined the causeway as I remembered with the same hustle and bustle of everyday life. We came up to the arrival point and because of the higher water level the ferry was able to come straight up to the bank. As I was feeling tired I just found my seat and bedded down for a sleep. I managed to get about 3 hours of interrupted sleep before deciding to just read. We certainly seemed to be going faster than before but in the end we arrived in Phnom Penn about the same time midday.
Waiting for us at the dock in PP behind a fence were the same hordes of tourist touts to take us away to the various guesthouses and hotels in the city. If you didnt need hotels then there were motodops ( motorbike taxis ) ready to take you to your destination of choice. Just tell them where and off you go. Well, in theory anyway.
More to follow
Phnom Penn to Sihanoukville
Sihanoukville is basically Cambodias port and beach town. Apart from that there is not an awful lot else for you to do unless you can ride a motorbike and get out into the countryside. The beaches themselves are not that nice comparing them to Thailands Ko Samet, Ko Change or Ko most anywhere. If the weather is not that good as it wasnt when I was there then you are really stuck. The fortunate thing was that the Rugby World Cup was on so I was able to waste most of my day watching that. It actually got so cool at night that I had goosebumps from wearing a t-shirt and wanted a long sleeve shirt! Jings, at home I would be wearing a jumper and a jacket as well.
The weather on Saturday was not good, windy and overcast with lots of rain, as the forecast was much of the same and I am not the worlds best sailor, the thought of spending 4 hours bouncing around on the sea in a converted river ferry was not the most appealing one. Also, I had hoped that I would get to the border sooner and thereby back to Bangkok as soon as possible. So I decided to go by road, I duly booked my seat on the bus and paid my $12.
Sihanoukville to Bangkok
The pickup time was 6.30am at the hotel. The actual pickup was only 15 minutes late so not too bad. As I was the 1st person to be picked up we then spent the next 30 minute picking 2 couples up, one Dutch couple - who was told that they would be picked up at 8.30! - and one American couple that decided to wait until the minivan had arrived to go next door from their hotel to buy water for their hi-tech water coolers. In fact, the cost of their Columbia jackets, Nike t-shirts, Rohan shorts and hiking boots probably could have supported a hungry family of 8 for a year. By 7.15 we were on our way and at that point we were all very comfortable with each group having a row of seats to spread out. Riding upfront was the driver and his assistant ( wife ? )
The minivan had been described as a non stop service to the border. HA! In reality, about 30 minutes outside of Sihanoukville it turned into the local bus service turning the ticket from one for a seat to one for a ride. A big distinction. We stopped at a small city and pulled in at a market area beside other minivans. We all wondered what was going on by I had a sinking feeling, sure enough 10 minutes later, 9 Khmers got on plus assorted bags. At this point, I was not particularly pleased but the American girl started to complain to the drivers wife that we had been told the bus was direct and wouldnt pick anyone up. Of course it was doing no good whatsoever. Worse was to follow.
The roads started deteriorating soon after as we changed from tarmac onto the familiar red dirt road and it got bouncier and bouncier and slower and slower as the pot holes started to increase both in number and depth.
We reached the 1st ferry by 9am and were grateful for the chance to stretch our legs and get out of the van ( that had no air con by the way ). 15 minutes later we had crossed and were on our way again. We were bouncing and jolting our way along about 45 minutes later when we were waived down by a woman at the side of the road. Oh well, one more wont hurt. Ooops, not one more but 3 more and luggage! The luggage consisted of about 3 live chickens, one large unidentified sack and 2 large bags of flowers. We therefore now had a load of 19 people, 3 chickens and luggage. This in fact did pose a problem as there physically wasnt the room to fit everything and everyone inside the van. At this point all the original 5 including me were complaining about it, but again what could we do? The solution was inelegant but practical, the drivers assistant got inside, closed the door behind her then moved her upper body out of the window so she was sitting on the window seal and grabbed the roof to hold on. While this would appear to be uncomfortable on a smooth road, what it must have been like on that bumpy road from hell, I dont know.
We crossed the 2nd ferry at 11.00am and the 3rd by 12.30 where we stopped for lunch for 30 minutes. At this point we crossed a van coming from the border who said we still had another 2 hours to go and I visions of being back in Bangkok by 8 or 9pm. Oh foolish, nave me. The reality was that the roads even further so that sometimes there was no actual path through the pot holes, we had to go either off road or go through them, slowing us down more and more.
By the time of the 4th ferry it was already just past 2pm and time was marching on with no end in sight. Everyone was lurch / crunch / wobble / bump weary especially me with my head seemingly constantly banging against the roof. As I said, it was bad enough inside on seats but what it was like for the woman who knows. We came up on the worst stretch of road yet but amazingly it was the last 3km outside Koh Kong itself and then suddenly we were on smooth roads just outside the airport . The next question was would we actually be taken direct to the border. We stopped at the market and all the Khmers and their luggage got off. At the same time the moto drivers spied an opportunity and started asking us through the doors and windows where were we going and of course offering to take us there. Well and good but the van was taking us there werent they? The drivers were in fact getting quite aggressive and began grabbing me and I ended up telling the driver just what he could do and it wasnt to take me to the border. Finally it was confirmed that we would indeed stay in the van and go to the border.
At last at 3.20pm the border came into view and we exhaustingly left Cambodia behind.
As a comparison
The boat The bus
Cost $12 $12
Departure time 12 midday 6.30am
Arrival time ( border ) 4.40pm approx 3.20pm
Duration 4hrs 8 hours 50 minutes
So for an extra 4 hours odd I save about 1 hour in getting to the border. Instead of being on a comfortable seat of my own with a choice of inside or outside, having a reasonable lie-in and a nice pre trip breakfast somewhere I had half a seat in a non air con van with 18 other people with luggage and livestock and my head bouncing off the roof with the bad potholes. Oh yes, and the weather was blue skies, no wind and the hottest day I had since arriving in Cambodia. Never again will I go by land. Given the choice I will take the boat or go back to Phnom Penn and fly.
Even after I crossed the border the hassles werent finished there. There were no songthaews into Trat and only minibuses with the next one leaving in 30 minutes or so. We ( the survivors of the Cambodian minibus ) were told that the bus would be direct into Trat. Oh dear. And we almost believed them! 15 minutes into the trip we stopped at Khlong Yai to transfer into an already half full minivan and basically the American yuppie went ballistic. After 10 minutes of heated discussions about getting money back, finding another taxi/bus and so on the driver seemingly relented. I quickly saw why. More Thais had turned up making the van we were to transfer into, almost full, so 2 vans would have to be used anyway! So once again we set off on our merry way and made it into Trat with no further dramatics. Unless of course the fact that they were initially going to drop us about half a mile away from the bus station despite the fact that 4 out of 6 of us were going there. Hey ho.
When we arrived we were pounced on by Ko Chang touts who wanted us to use their boat / songthaew. As soon as Bangkok was mentioned it was a mumbled over there and backs were turned. A bus was waiting and was to leave in around 15 minutes. I got on and sank back into the seat, looking at my watch it was already 5.45pm. So much for getting back early to Bangkok. The bus itself was a standard long distance couch and was fairly comfortable. We rolled out a 6 and got into Ekamai just after 11. By the time I got onto the BTS and back home it was 11.45pm. So basically it had been a 16 hour journey including waiting time.
Bridge Fixing - Cambodia Style!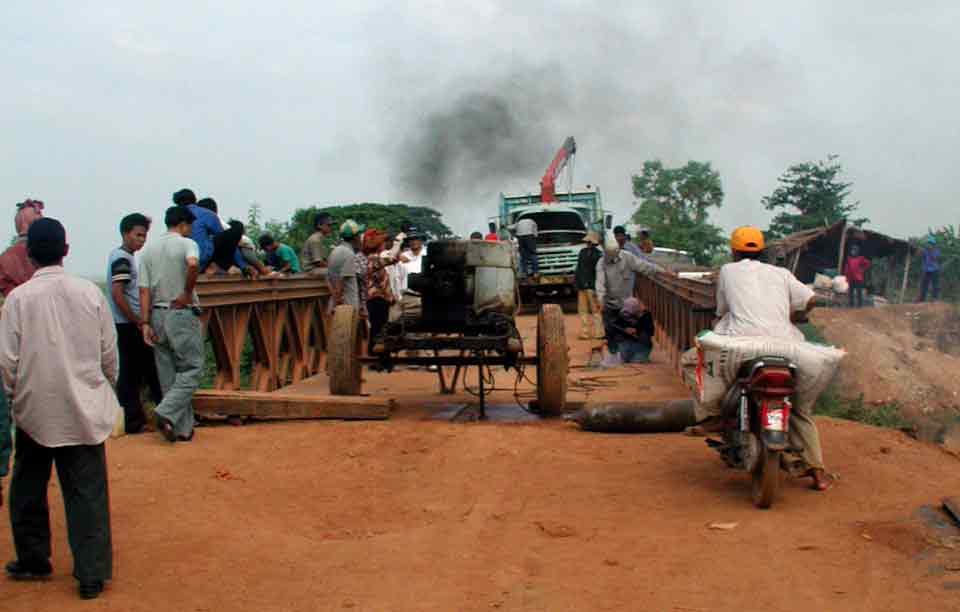 I had been suffering a bit from Thailand exhaustion ie everything about the place and the people were getting to me and I was just in a really bad mood for a while. After going to Cambodia I realise that if I lived there I would be even worse. No one leaves you alone there, your sole point of existence is to spend money or just give it to the Khmers. Walking 100 yards you are liable to have been asked "moto" ( as in a motorbike taxi ) by 6 guys who slowed down to ask you, 3 who ask from the other side of the road and 10 sitting at street corners. It is enough to drive you mad or to drink!
November 3
Well, here I am back at school now and just finished the first day. Oh my god, the legs are hurting. After weeks on just sitting down they are not used to it.
I did go to Cambodia again but things didnt quite work out as well as I hoped they would - the weather wasnt that great until I decided to leave, I got delayed on most travelling days, Rangers lost to Man Utd etc - but, I have now "done" Cambodia. I really dont think there is anything else for me to see.
Anyway, I have a whole load of new pictures that I will edit and put into the site or the photo album.
November 10
Well, I have now written a whole lot on my Cambodian trips and added it on but I still have a lot more to add yet.
Saturday was Loy Krathong day, one of the most beautiful and popular festivals in Thailand. This takes place on the day of the full moon in November. During the evening, many people will go down to their local klong (canal) or river to float their krathongs. They believe this will bring them good luck. The krathongs (literally translated as floating lotus) contain a flower, a candle and three incense sticks which are lighted before being placed on the water. The people usually make a wish at the same time. People believe that if the candle remains burning until the krathong is out of sight then their wish will come true. If you and your girlfriend want to see if you are suited then float your krathongs together - if they stay together, so will so. By the end of the evening, there are hundreds of flickering lights bobbing up and down on the water. Quite often there are also firework displays as well as shows and beauty contests for everyone. It can be a spectacular and memorable evening.
The Loy Krathong festival dates back to the time of the Sukhothai Kingdom, about 700 years ago. It marked the end of the rainy season and the main rice harvest. It is based on a Hindu tradition of thanking the water god for the waters. The farmers of Sukhothai used to hold a festival of floating candles. One year, a beautiful woman called Noppamas, who was the chief royal consort, made some special lanterns for the festival. She made them from banana leaves and shaped them like lotus flowers. The king was impressed with what he saw, so he announced that krathongs would be floated on the water every year from then on.
There was supposed to be a display in the park behind my apartment but it didnt take place for some reason and this meant I was too late to see the bigger display down at the Chao Phraya River. But we did have a ceremony at school so I will get some picures up from that asap.
December 2
Well here we are again and I seem to be saying the same thing. Nothing much happening. Work is progressing downhill in attitude with a management that doesnt care, wants to avoid confrontation and basically has all the organisational skills of a dead rabbit. We were told that we would have mid terms in teh first week of December, here we are and the latest is that we might have them next week.
Reorganise this famous saying. Piss Brewery Couldnt In Organise A UpThey.
Everything at the moment is really making me ticked off. Folk at work using the internet for hours at a time, the same people jumping in first to get extra work and refusing to share because he "needs" it more than we do, being ignored by the kids and having to shout more than I used to, being ignored in queues by Thais who assume that inch I left between my and the person in front is an invitation to them to jump in, being ignored in queues and Thais shouting their order over me so they can get served first, the pollution in the city, the delay in getting my work permit - 6 months and counting - the delay in getting my HNC certificate, knowing that I might be going home and having really ***** weather dark, windy, cold, wet instead of shorts and tshirt weather at midnight, my mobile phone not working properly so I turn up for a date but they had called me an hour before and left a message on my voice mail to say they couldnt make it..............
Dec 22
For the last couple of weeks the temperatures here have been decidedly cool 24,25 degrees C during the day and down in the teens at night, OK, cool at least for Bangkok anyway. Back home it would be described as very pleasantly warm with people sunbathing at lunchtime in the parks and so on. Here the effect on the Tha´s and the kids at schools is somewhat different. A lost of people are now wandering round with jackets on because it is "cold" . In school every room has air with it set at around 22-23 degrees. Half the kids have jackets or sweatshirts to protect them!
Maybe its because of the change of weather but the number of colds / flu like things that have been going round the staffroom is unreal and I have suffered as much as the next with various bugs and stuff. I am even sleeping with a blanket on my bed at night.
Well, the marking is now finished and Xmas is near. Once again, it doesnt really feel like Xmas. I dont know if its the sunshine or the lack of Xmas music for 3 months in the shops before the actual date.
Dec 30
Almost finished for the New Year and thank heavens. I think I have caught yet another cold, just in time for the holday. Typical. I know a couple of entries have sounded a little despondent but unfortunately thats the way December has been for me! So heres to a good new year and the best of health to everyone, especially me!
I am just about to go round the classrooms and say fairwell to the kids. As it is the last day the are all having Xmas / New Year parties with hopefully lots of games and especially FOOD I can steal. Some of the others cant even be bothered to go round and say goodbye to the kids, they are so eager to go home. Tonight is the teachers school party where we get a present for turning up and supposedly a ticket for a raffle, except last year no falang won any of the 100odd prizes. Hmm, very unlucky that.